Dance Etiquette and Requirements for Class
There are many reasons why having a uniform is ideal for children's dance classes; from ensuring they are able to dance comfortably with no restrictions or risks, to having a sense of belonging as part of a group.
We are flexible when you start implementing the uniform, particularly for our younger dancers. We do encourage you to make children aware that they still need to dress appropriately for class and most children love wearing their special dance clothes; which was one of the main reasons we put together a uniform and it was suggested by parents themselves. 
Each class has their own uniform and they have been chosen to ensure children are wearing age appropriate clothing. As they progress through classes the uniform changes slightly and to make life easier the same leotard is used for Prep and Primary Ballet, with just a change of skirt. We work with local dance suppliers to ensure we can get you affordable, quality dance wear and we also stock some items at class.
One requirement for ALL children is to have properly fitting dance shoes. We recommend full sole leather shoes as a preference and split soles for our older dancers. No socks are permitted in classes due to slipping, bare feet are fine until shoes are purchased.
Orders can be made at any time through our website dance shop 
Parent and Me
We are very flexible in regards to uniform for our bubs classes and they are welcome to wear their own clothes for this class, providing they are easy to move in and do not restrict movements. No denim or long dresses. 
If your child would prefer to dress the part for class then they can wear the following: 
Studio7 Pink dress OR
Studio7 Pink thick strap leotard and pink full circle skirt
Salmon Pink footed tights / Pink socks in summer
Pink Ballet shoes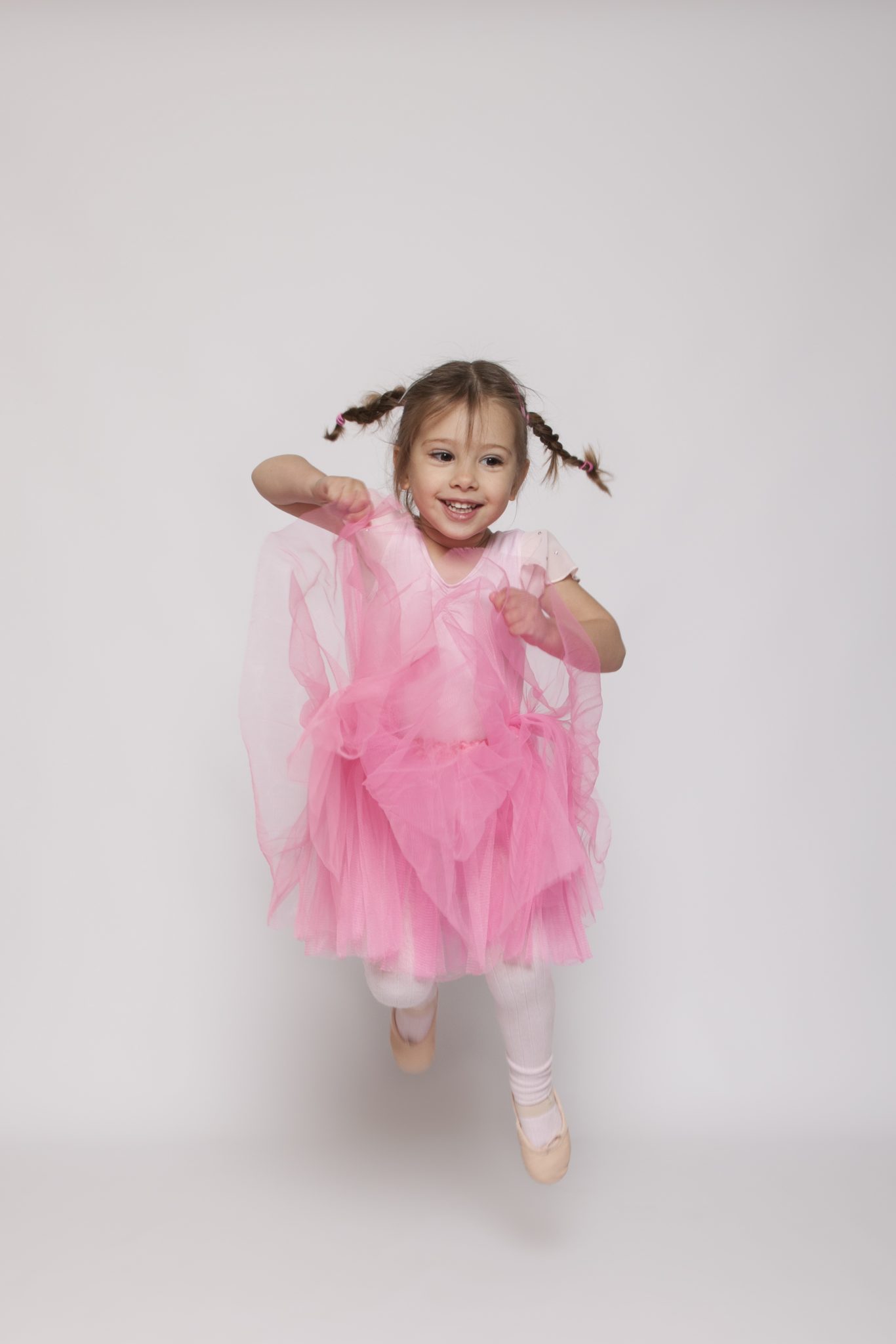 Tiny Tots
You have the choice of 2 outfits in this class, an all-in-one dress or separate leotard and skirt. The all-in-one is generally more suited to tiny dancers and for ease. 
BALLET
Studio7 Pink dress (recommended for our 2-3yro tiny tots) OR
Studio7 Pink thick strap leotard and pink full circle skirt (recommended for our older or those participating in shows)
Salmon Pink footed tights / Pink socks in summer
Pink Ballet shoes 
JAZZ
T-Shirt and Black Shorts
Black Jazz shoes or bare feet
Hair must be off the face in a Ballet bun or ponytail
Prep 
This class has the same leotard that is also used in the following class (Primary Ballet)
BALLET
Studio7 Pink thick strap leotard
Studio7 Pink full circle skirt 
Salmon Pink footed tights / Pink socks in summer
Pink Ballet shoes
JAZZ
T-shirt of choice or Leotard & Black Shorts
Black Jazz shoes 
Tan Socks
Primary Ballet
Studio7 pink thick strap leotard
Studio 7 black wrap skirt
Salmon Pink footed tights/ Pink socks in summer
Pink leather Ballet shoes
Hair must be off the face in a Ballet bun or ponytail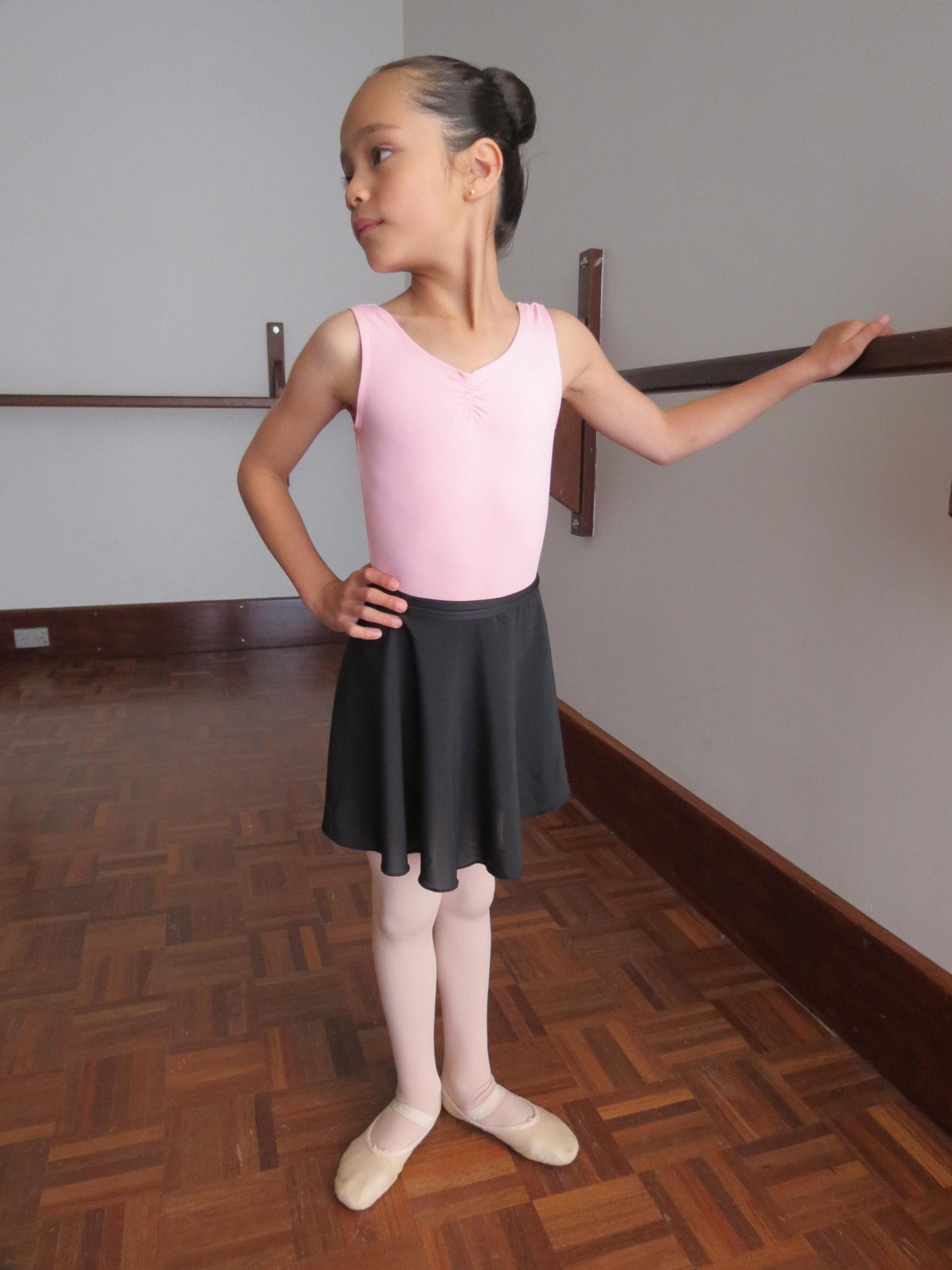 Junior Ballet
Studio7 princess strap mulberry leotard
Studio7 black wrap skirt
Salmon Pink footed or convertible tights / Pink socks in summer
Pink leather Ballet shoes
Hair must be off the face in a Ballet bun or ponytail
Jazz / Tap
Kelly's Dance Academy T-Shirt or Black T-Shirt of choice
Black Dance Shorts
Jazz = Black Jazz shoes
Tap = Tan tap shoes
Studio7 or Energetiks Tan socks
Hair must be off the face in a Ballet bun or ponytail
Boys
White singlet or t-shirt
Black or White long sleeved top in winter
Black Shorts
White ankle socks
Black Ballet Shoes
Accessories
Kelly's Dance Academy Drawstring Bag
Colour: Beige with logo
Size: 36cm x 34cm
Cost: $18