Ballet Classes
Our classes have a clear, well balanced structure to them and we put a lot of thought and time into ensuring you child is learning, having fun and their holistic development is being supported. Your child will learn an abundance of classical Ballet skills and steps whilst being suitably challenged and encouraged each step of the way, we believe this provides the essentials of dance to become a creative, confident and versatile individual. As children progress through the classes they receive the appropriate teaching for that age and level, ensuring they build not only dance skills but an appreciation for the arts and many self development skills to ensure they are competent to move into the next class. Whilst we teach in a professional manner we have a special way of making our classes fun, engaging and interactive.
Please note the ages for classes are just a guideline and it is important children have the skills and confidence before moving up a class.
Prep Ballet
The Prep Ballet class is a great step up from our Tiny Tot's Ballet Programme, or if your child is new to dance and wants to learn all the wonderful beginnings of Ballet.
This 35 minute class will expose your child to Ballet positions, along with the introduction of set exercises at the barre and in the centre. Your child will learn the foundations of ballet in a fun engaging manner to a combination of music and themes. This class focuses on building your child's confidence and skills to be more independent in their dancing and overall self.
Parents are able to stay for these classes, except for when we are preparing for concerts and nearing the end of year.
We also have a Prep Ballet and Jazz class, which is a 45 minute class where the main focus is still learning Ballet with the addition of a 15-20 minute section of Jazz dance. This gives children the opportunity to explore and learn a new style of dance and it extends their learning and confidence in this faster style.
Class Times
*Monday 10:50am, Tuesday 4pm, Thursday 3:45pm and Saturday at 9:40am*
*Prep Combo runs Saturday 8:45am – 9:30am*
Primary Ballet
The Primary Ballet class is suitable if your child is between 5 – 7yrs old. If they have participated in Ballet or dance class previously they can join from 5 years old, if they are new to dance or prefer a smaller class we recommend waiting until they are over 5.5yrs and joining the Prep Ballet in the meantime. 
This 45 minute class focuses on Ballet and creative dance, developing the your child's knowledge of Ballet positions and steps, whilst extending their exposure to terminology and combination steps. This class also allows your child to express themselves through routines and imaginative dance both independently and with partners / group. Your child will also learn about safe stretching, posture and how to improve their dance skills and overcome challenges.
Within the term we carry out themes and each term your child will learn about a classical ballet or story which we focus on. 
Parents do not stay for this class, however you are invited to our termly parent viewing week.
Class Times
*Monday and Tuesday at 4:40pm and Saturday at 11am @ Karrinyup*
*Saturday at 10:05am @ Malaga*
Junior Ballet
The Junior Ballet class is suitable for your child if they are over 7 years old, ideally they would have had prior Ballet experience however this is not essential as we keep our classes small or have 2 teachers and therefore can provide a solid introduction to dance for your child. On Saturday's our Junior classes are split into 2 age groups; 7-9yrs and 9yrs+
Your child will develop a good knowledge of Ballet steps, terminology and technique and build on these skills through exercises at the barre, centre work, routines, an increased exposure to steps, set exercises and travelling sequences. This class also follows the Australian Teachers of Dance (ATOD) syllabi as well as exploring classical Ballets, imaginative and expressive dance. Your child will build on working as a team and with partners to support each other during the class.
As part of the Junior Ballet classes your child will carry out weekly development on their goals, growth and areas of focus within Ballet and this is carried out as a group within the class. Parents do not stay for this class, however are invited to our termly parent viewing week.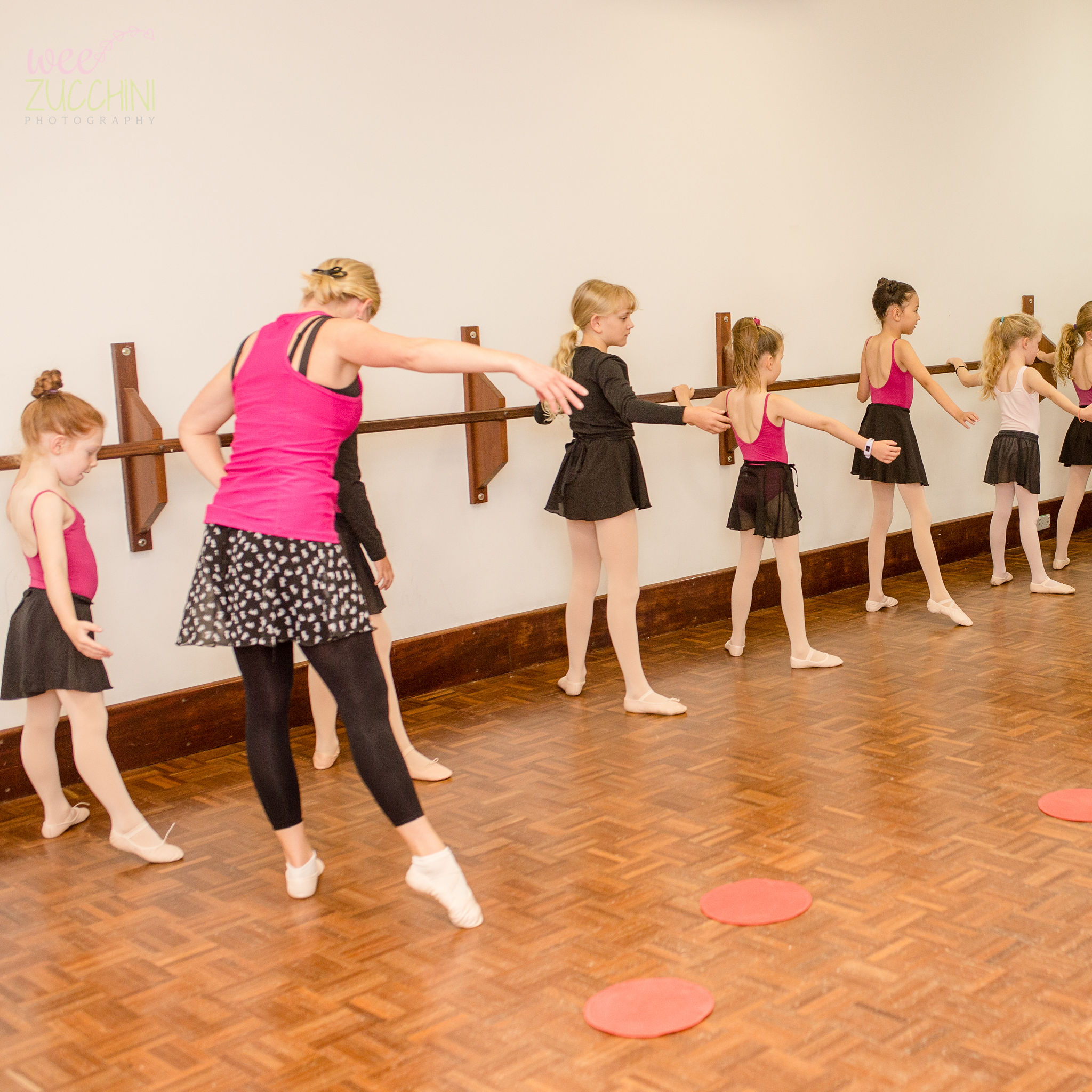 Class Times
*Tuesday 5:30pm and Saturday 11:45am*